Saturday, September 18, 2010
TONIGHT, TONIGHT
To celebrate the launch of episode three of the knocking shop, the ghost of The Stags Head will open it's doors for a good old fashioned screening and knees-up. It's all happening TONIGHT, The 18th of september 2010, from 8PM in the evening.
The legendary Graham Gadget will be your host and TEETH, BECOMING REAL, TOUGH LOVE DJ'S & THE KNOCKING SHOP DJ'S will all play records after the screening.
It's £2 to get in and entry will be limited to 120 people, so get involved nice and early. See you tonight!
Thursday, August 5, 2010
SOMEWHERE UNDER THE RAINBOW…
It's our last Week. After the rain stopped this afternoon, this happened.  
If you missed the last ever pub quiz, it was quite the event. Thanks to everybody for coming down. 
We've still got lots going on in the Stag until 11 o'clock on Sunday when we shut up and let you all get back on with your lives. Full listings to come… but really, does it matter? Just come down about 8 o'clock and something good is bound to happen. Like a Rainbow or something.
But seriously… not like a rainbow… something actually good… Fuck… getting sentimental yet?
Monday, July 26, 2010
DITDITDIT … DAAAT DAAAT DAAAT … DITDITDIT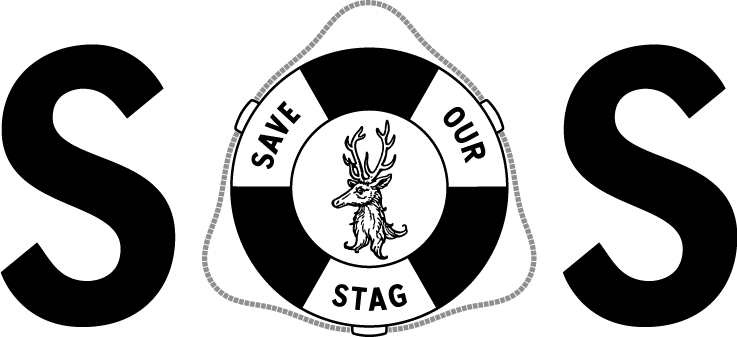 OK Folks, We got ourselves an online shop. You can't buy anything there but you can use it to make a donation to help save The Stag's Head.
We're accepting donations via Paypal so that we can refund people their money if things don't work out so well in the end. Check out the online shop here.
Friday, July 23, 2010
«««««« S.O.S »»»»»»
OK, So you probably know by now… but if you don't, the rumours ARE true and The Stag's Head is in serious danger of being forced to close by the 8th of August. The reasons are manifold and if you fancy having your ear chewed off about it for an hour or two, feel free to ask Matty about it.
But, and this is a big but - It ain't over 'till it's over.
The reason we posted the news on facebook but not here is that we felt we had to respond to the rumours but we've being working like mad behind the scenes to try and avert the worst… it seems that investors love us, but not the Brewery we're tied to, which is a bit of a bummer. It looks like we're going the way of the much missed Cross Kings
Our last resort is to come to you, our friends, customers and partners in crime, with our cap in hand and ask if there's any way you would consider making a donation to help keep the show on the road. We're setting up a PayPal account if you would like to make a donation. If the worst happens and we don't raise enough, or the pub has to close for reasons beyond our control, we will use PayPal to refund everybody their money. We understand it's a big ask, but think about how much poorer you'll be without the Stag's in the world and dig deep guys. As Princess Leia once said, You're our only hope.
Thursday, July 15, 2010
WENSDY, FURSDY, FRYDY
WOW! Chan was amazing last night! Thank you so much to everybody who made it down. As the man himself said, The Shanty Band provided the perfect setting for the evening. Massive round of applause to the both of you.
Did anybody else have a bit of a moment last night when the entire room full of trendy Hackniks started waving their arms in the air and bellowing along to Don't Look Back in Anger by Oasis? That's the power of Chan. We Love you Chan!
Today the Stag's Head be closed because it's being used as a location for a film. Hey-ho, maybe Eastenders is on?
FRIDAY looks set to be another knock-out CLUB THE MAMMOTH. There's four bands: ISLINGTON BOY'S CLUB, RELICS, THE CAULFIELD BEATS and BIG DEAL. There's DJs from 8 in the evening and it goes without saying that it's FREE.
Wednesday, July 14, 2010
Yea, and those who see'th him knoweth him to be the LORD
Don't forget to get yourselves down here tonight to witness the mighty CHAN live on our stage. We can't recommend this guy to you enough. If you can think of another performer who would have the balls to follow the blazing guitar solo from Hotel California with the operatic extravagance of Nessun Dorma you're truly, truly blessed. 
CHAN is a man who loves music, he soars and you soar with him. 
CHAN is supported tonight by the City Shanty Band. YAAARGH!
The music starts at 8 and as always it's FREE.
Monday, July 12, 2010
ENTERTAINMENTS!
Hello All,
As we promised, here's the latest on what's happening at the Stag's Head this Week:
TUESDAY 13th:
Quiz Night - We'll be studying an antique quiz this week, bring your thinking caps from two weeks ago because we had a little break for the football.
WEDNESDAY 14th:
IE JESU! It's The mighty, incomparable CHAN supported by the City Shanty Band.
If you've never seen Chan "The Axe-Wielding Pavarotti" you're wasting your life. He's unbelievleable. Get down here for 8 because this is something else - and it's FREE to get in
THURSDAY 15th:
There's film crew  taking over the pub so we won't be opening. We'll give you more details about the project when we're allowed. 
FRIDAY 16th:
It's CLUB THE MAMMOTH with a fantastic line up of Live music from ISLINGTON BOY'S CLUB, RELICS, THE CAULFIELD BEATS and BIG DEAL. As ever it's free in and there will be people playing records before, during and after. It all kicks off around 8.
SATURDAY 17th:
YNGVE AND THE INNOCENT Will be gracing us with the Launch of their new E.P. Nothing was Delivered. Starts at 8, as ever, It's free to get in.
SUNDAY 18th:
It's the Hard-Rocking DIRTY WATER CLUB with live sets from THE LONDON DIRTHOLE COMPANY and THE NUNS. There's gonna be DJ's all afternoon and the Stag's Head Extra Special barbecue for those of you willing to face the ordeal of coming to drink in the sunshine of our gorgeous beer garden. The Barbie's from about 3, The music starts at 6. Free in, Happy Days.
Monday, July 5, 2010
WE'RE LIVE
Hi Folks, Welcome to the Stag's Head Tumblr!
We're gonna be using all of our powers to bring you regular updates on events. There's a Blog where we show you some of the lovely stuff that we happen upon in the day to day running of the pub. There's a Google Map with all the useful shit like the nearest free Cashpoints and corner shops. There's a Google Calendar so you can begin planning your life around the feast of entertainment on offer. There's a link to the website of the amazing Knocking Shop, so if you're a little slow on the uptake you can keep up to date with those boys.
We're making all this ourselves, so it might take a little while for it all to be up and running and shiny. As ever, bear with us, it is the Stag's after all.
THE SOUND OF KNOCKING
The new episode of The Knocking Shop is available now! - watch part one right here or hit up their website for all episodes and bite-sized chunks of the action.